September 19, 2014
vegan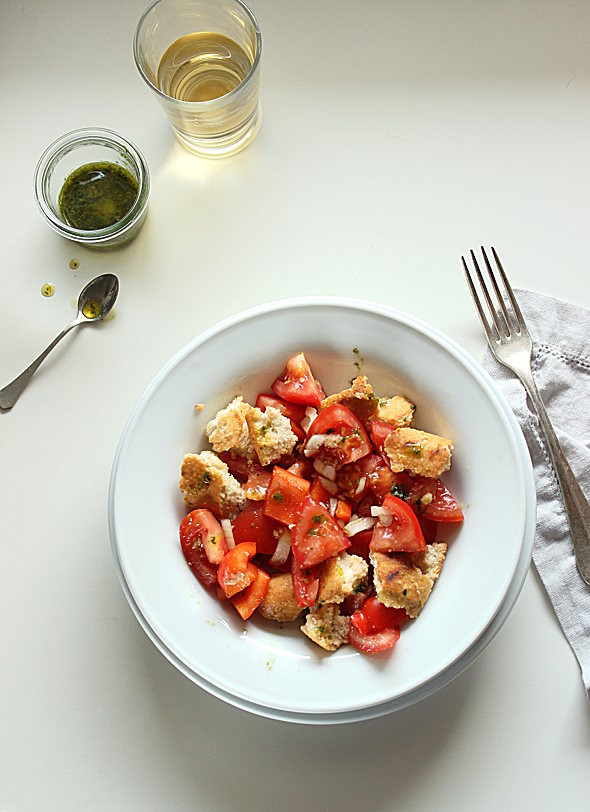 The classic Italian bread salad is a great way to use up stale bread and boost the taste experience up to 'very pleasing' (ding, ding, ding). In its most common form it usually also consists of tomatoes and raw onions in a basic vinaigrette. This version also adds bell pepper for some fibrous crunch and a basil dressing with Chimichurri vibe.
It might just be my selective perception but as soon as I discovered Panzanella for me – as a great way to use up stale bread – suddenly Panzanella recipes were popping up everywhere. It seems that this bread salad practically became pretty much a free style salad. Or say it's on the verge of becoming that. As long as there's bread involved you can call it Panzanella (mostly without any nervous ticks or a backlash).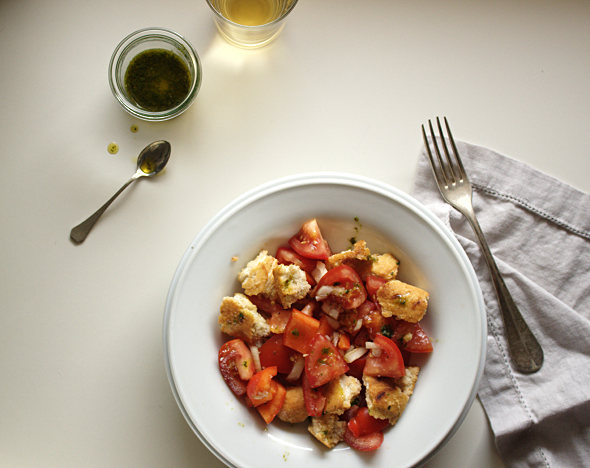 Read the rest of this entry »
---
August 21, 2014
gluten-free, spring/summer, vegan
A relaxing and refreshing 'ahhh' is what you are going to say when you try this salad with Japanese buckwheat noodles and complimentary dressed raw, fresh vegetables with a nice bite.
It really is a great and healthy salad especially on a hot summer day, as it'll help you keep your cool while also tasting amazing. Yes, there is some various vegetables chopping involved here but as soon as you take the first bite you'll know it was the right decision to make this salad. I promise.
---
August 18, 2014
vegan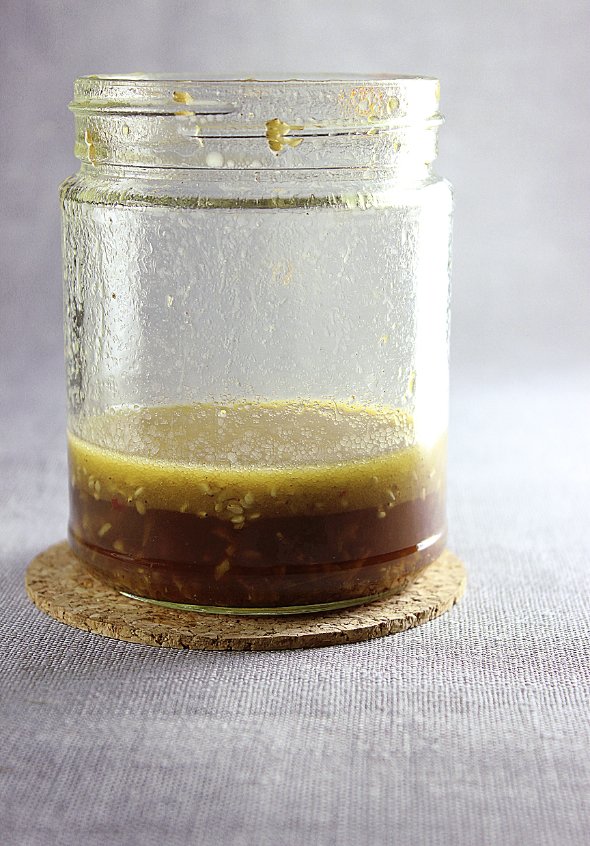 This Japanese soy sauce ginger dressing will make you fall in love with your salad.
Well-orchestrated ingredients make this Japanese origin vinaigrette a great salad finish. You can use this dressing for all kinds of salads, like a Refreshing Soba Salad, Asian cole-slaw, mixed green lettuce salad, or mixed cabbage salad with vegetables like red cabbage, carrots, radishes, red bell pepper, cherry tomatoes, scallions – topped with a (soft)boiled egg. Possibilities are nearly endless.
---
August 15, 2014
gluten-free option, pasta, spring/summer, vegan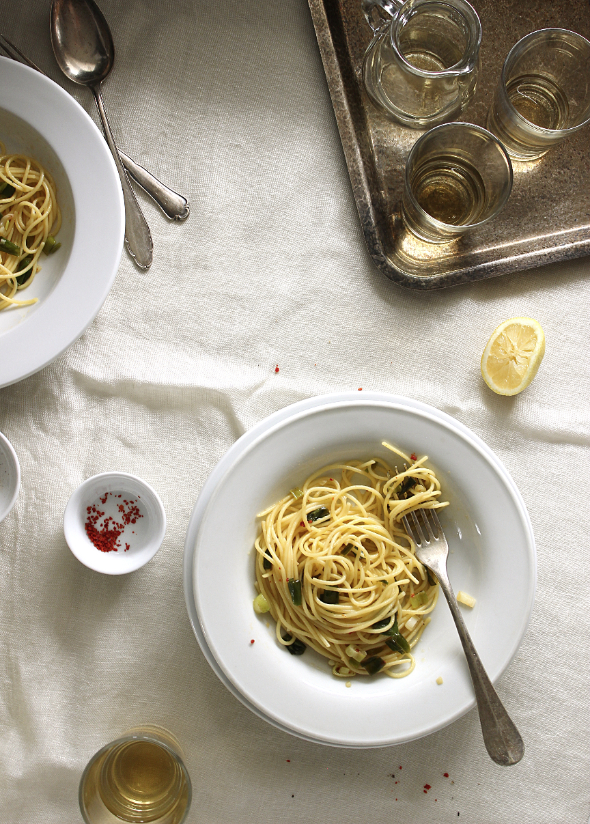 This is a little variation on the simple yet classic Italian Spaghetti aglio e olio ("spaghetti with garlic and oil"). It features sautéed spring onions (aka scallions) which adds some bite.
When I think of Spaghetti aglio e olio I remember that I really was on a kick when once vacationing in South Tyrol. Read the rest of this entry »
---
August 15, 2014
gluten-free, spring/summer, vegan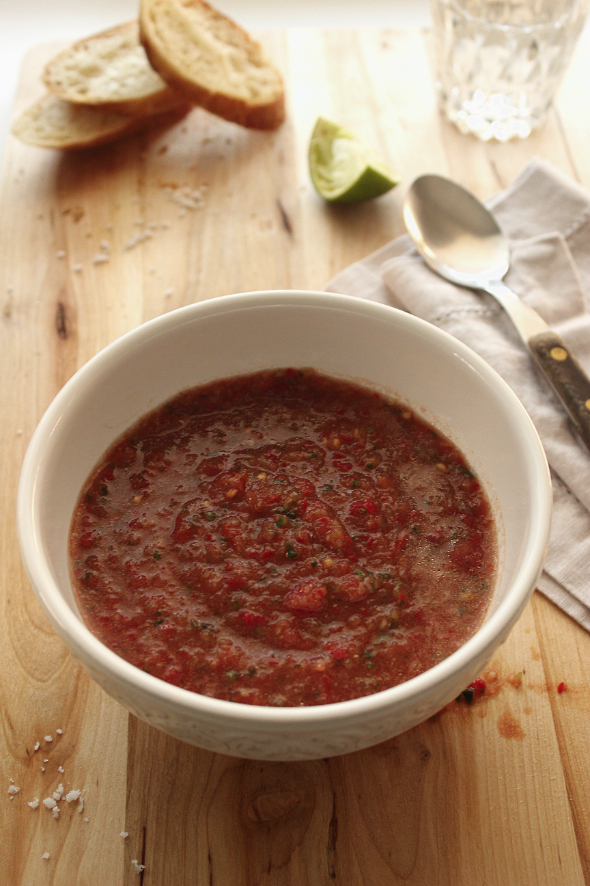 Very refreshing and full of healthy raw vegetables this modern-day Gazpacho version never disappoints and is ideal for warm summer days.
The typically tomato based soup that's been served cold originates in Andalusia, Spain and has ancient roots. The original recipe also featured stale bread that has been softened with water as a soup ingredient. Tomatoes were actually added only later after Christoph Kolumbus introduced these botanically considered fruits to Europe.
---
August 15, 2014
spring/summer, vegan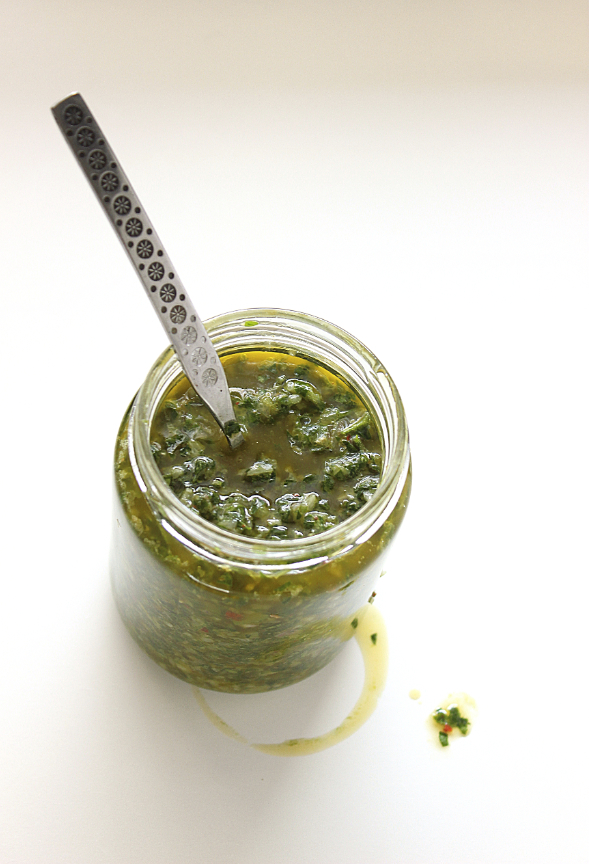 This is my take on the popular Argentine Chimichurri parsley based salsa verde that's no doubt one of the best sauces not only for grilled steaks but also for all kinds of grilled meat, fish and vegetables. It enhances your grilling experience and it feels like a pleasant visit at an herb garden. Before you enjoy ideally you let the sauce chill for some time for the flavors to develop and merge.
---