August 21, 2014
Refreshing Soba Salad
gluten-free, spring/summer, vegan
A relaxing and refreshing 'ahhh' is what you are going to say when you try this salad with Japanese buckwheat noodles and complimentary dressed raw, fresh vegetables with a nice bite.
It really is a great and healthy salad especially on a hot summer day, as it'll help you keep your cool while also tasting amazing. Yes, there is some various vegetables chopping involved here but as soon as you take the first bite you'll know it was the right decision to make this salad. I promise.
Great gluten-free noodles
Soba means buckwheat in Japanese and they also refer to the thin striped noodles that traditionally are handmade from buckwheat flour. The home version of it is available in dried form. Latter is I assume how most of us outside Japan know them so far – including me. Despite its name, buckwheat is neither related to wheat nor is it a grain. It's a pseudo cereal like quinoa or amaranth since their seeds are used similar like grains.
Given real grains get quite some scolding for being overbreed over the centuries and decades and therefore accused to cause some health issues – hence the coined term 'Frankenwheat' –pseudo cereals seem to be the better options (I'm eating a plain sandwich here while writing this). They are high in protein, gluten-free (okay, it's tough making sandwich bread with that) and other nutrients.
The dressing
The dressing is the same one as previously introduced here as Japanese Ginger Dressing. It's perfect match.
The trick
Since soba noodles are rather delicate the trick to avoid them losing their shape and condition is to cook them al dente and to only dress the vegetables. You serve the dressed vegetables right on top of the noodles and mix both together just before eating. Or you don't want to dress the noodles as long as the vegetables as they should rest a little (at least 10 minutes) to soften slightly and get infused.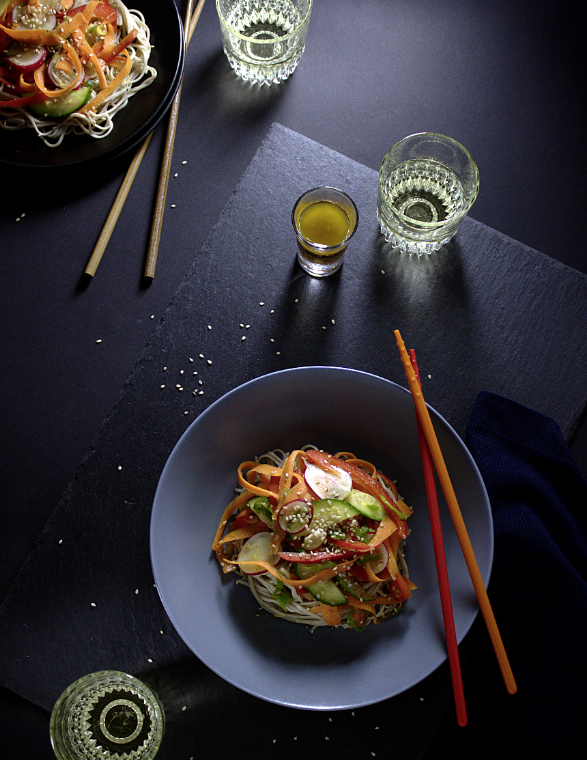 ---
Refreshing Soba Salad
2014-08-20 16:38:58
Serves 4
Ingredients
200g (7 ounces) soba noodles
6 radishes, thinly sliced
1 carrot, thinly sliced with vegetable peeler or finely julienned
½ cucumber, cut lengthwise in half then sliced
Green parts of 1-3 scalions, thinly sliced
1 red bell pepper, (finely) julienned
4 ts sesame seeds or to taste
For the soy sauce dressing
2 TS soy sauce
1 TS finely grated ginger root
1 clove garlic, stem removed and minced, optional
3 TS olive oil
2 ts sesame oil
1 TS rice whine vinegar alternatively white wine vinegar
1 TS fresh lime juice
1 TS water
Black pepper, to taste
1 ts toasted sesame seeds
Pinch (1/8 ts) of red pepper flakes, optional
ts = teaspoon (5ml), TS = tablespoon (15ml)
Instructions
Bring a medium pot of water (about 2l) to a boil and add your noodles, stir especially in the beginning and cook them at medium heat for about 3 minutes (or according to your package instructions). Then drain and rinse them under cold water until the water runs clear(er).
Add all your ingredients for the dressing in a mixing jar and stir to combine. Set aside.
Now add all your vegetables along with some sesame seeds in a medium bowl and drizzle the dressing over, mix until everything is coated.
To serve add some of the soba noodles on a plate then place the dressed vegetables on top and sprinkle over some more sesame seeds.
Notes
Dried soba noodles are rather delicate and break easily. So the trick is to only dress the vegetables rather than to combine everything beforehand.
food for freude http://foodforfreude.com/
Equipment
The Usual (cutting board, chef's knife)
Vegetable peeler – for grating the carrot
Medium pot – for boiling the noodles
Glas jar with lid – for shaking the dressing
Medium bowl – for mixing and dressing the vegetables
---
---