August 15, 2014
Gazpacho – With Fresh Tomatoes Only
gluten-free, spring/summer, vegan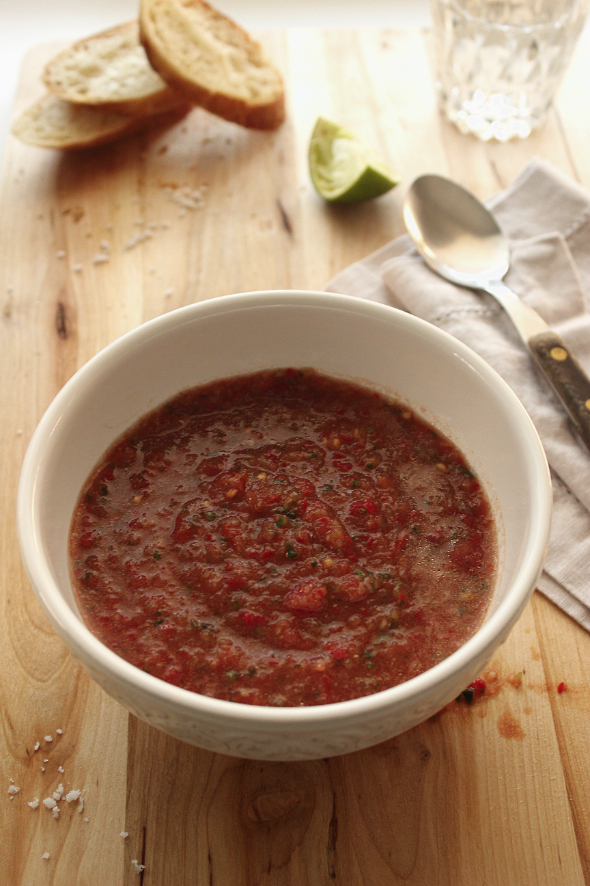 Very refreshing and full of healthy raw vegetables this modern-day Gazpacho version never disappoints and is ideal for warm summer days.
The typically tomato based soup that's been served cold originates in Andalusia, Spain and has ancient roots. The original recipe also featured stale bread that has been softened with water as a soup ingredient. Tomatoes were actually added only later after Christoph Kolumbus introduced these botanically considered fruits to Europe.
Today the typical ingredients in a gazpacho besides tomatoes are bell pepper, cucumbers, garlic, olive oil and vinegar. The gazpacho as we know it nowadays is probably one of the most popular cold soups that's been recommended especially for warm, hot summer days because of its refreshing character. In reverse when thinking of gazpacho association with summer in its classic form isn't far apart.
Clashing expectations and key to perfect gazpacho
Whenever I used to order Gazpacho even at one of my favorite places I got disappointed each time. Either it was lacking that freshness kick I usually was after or even worse was more like chilled Minestrone. Which both weren't what I expected in the first place. The key for a really refreshing gazpacho is using raw vegetables, which include using raw tomatoes only rather than including processed tomato products such as tomato juice or passata.
Food processor FTW (for the win)!
In the early days of my personal Gazpacho homemaking I was living on the edge using the box grater to finely grate tomatoes and cucumber into a puree-like consistency. This worked fine but was time consuming and well kind of dangerous… Or let's say it required more of your attention. These days I've been using the food processor that makes so many recipes in general so much easier and more approachable. Rather than a puree the outcome is chunkier which isn't bad at all. Preparing extra toppings like finely diced bell peppers and cucumbers become obsolete.
---
Gazpacho – With Fresh Tomatoes Only
Ingredients
650g (about 6-7) ripe tomatoes, destemmed and quartered
1 cucumber, cut into chunky bits
1 small onion (or ½ a big onion), quartered
2 red bell peppers (or 1 red and 1 green bell pepper), deseeded and cut into chunky bits
1-2 celery stalks, cut into chunky bits
½ ts minced fresh red or green chili, or jalapeno, optional
2 TS balsamic vinegar
2 TS olive oil
1-2 TS lime juice
Sea salt – Fleur de Sel would be great, to taste
Pepper, to taste
ts = teaspoon (5ml), TS = Tablespoon (15ml)
Equipment
The Usual (cutting board, chef's knife)
Food processor
Large bowl for mixing
Directions
In a food processor add vegetables in batches and process for about 2 minutes until everything is smooth and with small bits and pieces. Pour mixture in a large mixing bowl and repeat until finished.
2. Add vinegar, olive oil, lime juice to the soup and season to taste with fleur de sel and pepper. Stir everything to combine. Serve as is or slightly chilled by refrigerating the soup for half an hour.
Notes
The original Gazpacho recipe from Andalusia also has bread in the soup that has been soften with water prior its use.
Celery stalks are not among the classic ingredients. However they lend the soup a slightly Bloody Mary (Virgin Mary) feeling.
Garlic that is actually a classic ingredient has been omitted on purpose. Feel free to include them in your version.
---
---