September 12, 2014
by Oanh
Crispy Oven Baked Fries
gluten-free, vegan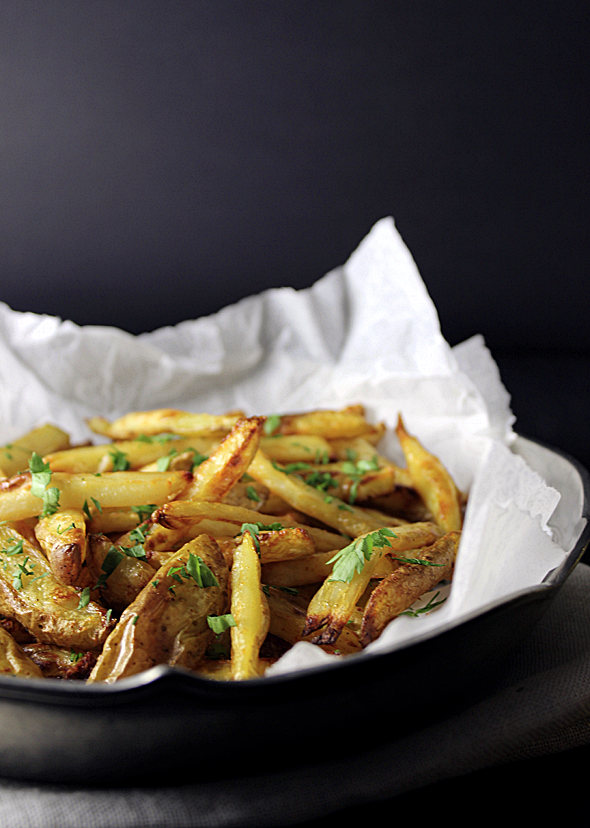 Thanks to a simple trick these oven-baked 'fries' turn really crispy and delicious. To fear a comparison with real fries from the deep fryer these healthier padawans need not.
Doesn't most childhood memories somehow also involve fries (ok, depending where you live)? Like for instance the best fries you eat are those after a swim at your trusty bathing resort (sugar pearl bracelets were also a big thing). For a lot of us memories featuring fries actually won't stop with adulthood. Fries are über beliebt (popular) no matter what age – how the French would say.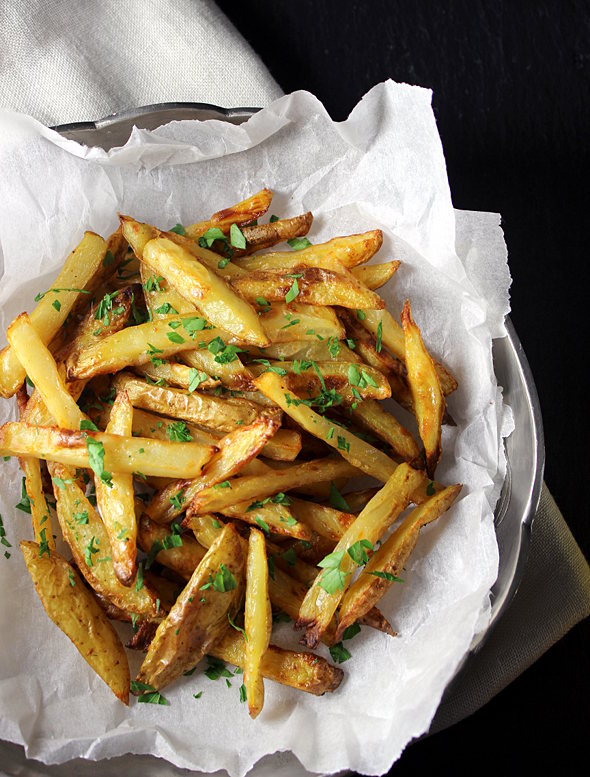 Speaking of which until now the origin of fries remains not crystal clear as the French are still arguing over that prestigious spot with the Belgians. Though in no other country they are so beloved like in Belgium where they are not just side dishes but star as the main attraction, the pièce de résistance. Typically double fried in beef fat. Oh, and there waffles? Devine.
Actually Belgian Waffles brings back faint memories when I visited a Belgian music festival called Pukkelpop in 2012 (I used to be quite the festival hopper though not completely sure if that's now a thing of the past). It was a very huge festival offering a great selection of bands. However the food was terrible. Vastly expensive and just bad lacking any love. Except for the waffles (and fries for some of us). They were our bright spot in an otherwise culinary dark place that was also very dusty.
Back to fries. What a pleasant surprise to find out that fries fresh from the oven made from real potatoes are actually quite tasty and also very doable, too. If only I knew it much, much earlier. Probably wouldn't indulge so much on store bought processed fries for the oven. Hey, better late than never!
Two tricks for crispiness and convenience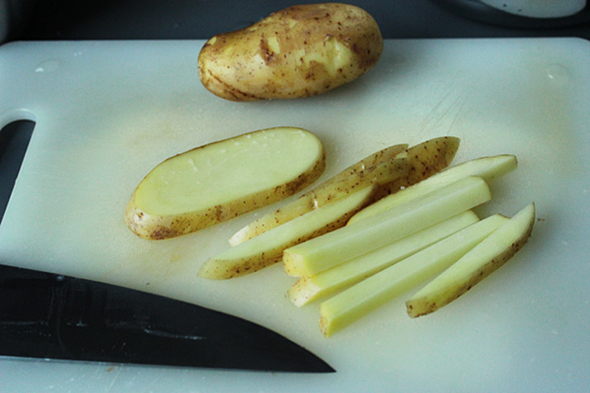 There's actually two tricks involved that will make them cook much faster, super crispy on the outside, soft and cooked through on the inside. One important step to get crispy fries is to de-starch them. Let the cut potato sticks take some water baths to get rid of most of the starch. After that you will in step two precook them in the microwave before they get crispy and brown in the oven.
Two step cooking adaptation
This method with precooking the potatoes in the microwave can be considered as an adaption for the baked version since original fries are double fried. First frying is to cook the inside at lower temperature and second to get them extra crispy at higher heat.
A good way in general (most of the time) whenever you are not boiling your high-starched potatoes to parboil them in the microwave before you cook them by the actual intended method, i. e. roasting or baking. Which otherwise would take so much longer.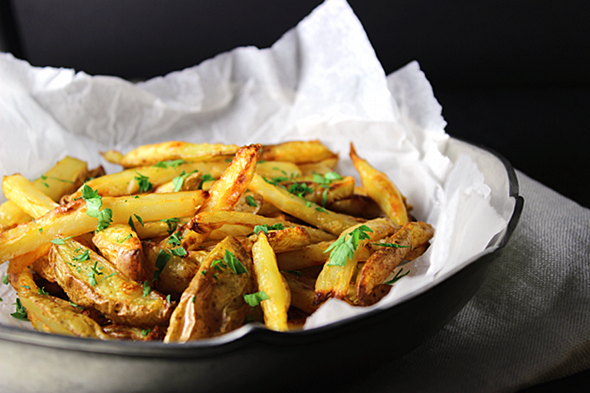 ---
Crispy Oven Baked Fries
2014-09-12 18:07:53
Serves 6
Ingredients
6-10 (1000g / 2.2 pounds) large organic low-starch potatoes
1-2 TS olive oil
1-2 TS finely chopped flat leaf parsley, for topping
For the spice mix
Salt and pepper, to taste
Pinch of cayenne
1 ts paprika
2 ts dried Herbes de Provence (or mix dried oregano, thyme and rosemary) – optional but recommended
ts = teaspoon (5ml), TS = tablespoon (15ml)
Instructions
Cut the potatoes, skins on, lengthwise into thin 1/3" fries and place them in a large bowl filled with cold water. Drain the starchy water and refill with fresh water, let the potatoes sit a few minutes in the water, then drain again.
In the meantime mix all the herbs and spices in a small bowl, set aside.
Put potatoes back in the bowl and toss with the spice mix.
Preheat the oven to 230°C (450°F).
In batches place the potatoes in a large microwaveable bowl, cover up with a second bowl leaving a small steaming hole. Now microwave them for about 10 minutes at 700 watt (8 minutes at 1000 watt) to precook the potatoes.
Carefully drain the microwaved potatoes in previous used colander then toss with olive oil, and spread them single-layered on an oven rack lined with parchment paper.
Bake them for 20-25 minutes or until golden brown and crispy on the medium shelf. Rotate the rack after 15 minutes or at least when half way through around the other side (one-eighty degrees turn).
Right before serving top the fries with chopped parsley.
Notes
Leaving cut potatoes in water to de-starch is the trick to get them so crispy in the oven.
The fries will cook faster on an oven rack rather than a baking sheet.
food for freude http://foodforfreude.com/
Equipment
The Basics (cutting board, chef's knife)
Large bowl – for mixing the potatoes.
Colander
Small bowl or plate – for mixing the spices.
Two large porcelain bowls – for microwaving the potatoes
Oven rack – recommended over a baking sheet
---