September 1, 2014
Southern German Potato Salad
dairy-free, gluten-free, spring/summer, vegetarian option

A potato salad on the lighter side – yet it compromises nothing. Dressed with a simple but brilliant concoction made with beef stock and vinegar, typical for Southern German potato salad this side dish will become your secret main star.
Potato salads are definitely among the most classic salads for picnics, grilling, parties, get-togethers in general. They are great sidekicks to (grilled) meat, fish, sausage and burgers or for falafel… the list goes on. You can say there are two camps. There's potato salad with mayonnaise and there's one without it. Organically you happen to find yourself on either one side or the other. So I'm on camp 'no mayo per favore'.
Whose side are you on? If you like yours with mayo then the following recipe is probably not for you. Or perhaps that could be the beginning of a new (long awaited) love? (Don't forget 'Phase 3: profit') Ok, so let's break it down together.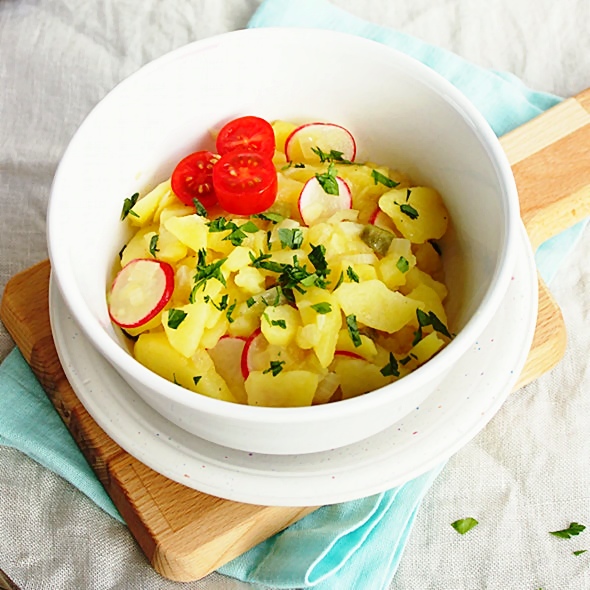 The potatoes
You cook low-starch potatoes skin-on in salted water until they are cooked through but are still firm enough to cut them in small thin slices. Before you would slice them you let them cool off a bit accelerated by a brief rinse with cold water that stops the cooking process. Then the fun and almost endless peeling game comes next. Using the right tools, potato peeling knife and fork really pays off, making things much easier.
The magic dressing
I can't recall a salad where you would use that same method to dress your salad. It's a potato-salad exclusive. Let's keep that a fact. Yet this method is so perfect for potato salad, it's sheer brilliance. How do people come up with that?
It's a vinegar-oil dressing but the largest amount is actually taken by broth. Beef broth to be exact. Vegetarians can substitute with a vegetarian-friendly vegetable broth. First you bring beef broth to a simmer, then add diced onions and turn off the heat letting the onions soften a little bit and lose their raw sharpness in the residual heat before you add vinegar and oil.
A small fraction of good Dijon mustard brings back some subtle sharpness. What distinguishes good mustard in general from not so good (aka bad)? It's the kind and the amount of ingredients. The less and the simpler, the better. Good mustard only consist of water, mustard seeds, vinegar and some salt. Dijon mustard in particular consists of either brown or black mustard seeds. Unlike others these seeds don't get de-oiled, which gives it that distinct aroma and also makes them so suitable for cooking.
Other ingredients and sidekicks
Other ingredients are all optional add-ins and –ons. Fresh herbs like chives and/or parsley are highly recommended not only for color. Radishes and cucumber add some crunch. Cornichons or pickled cucumbers in general are a very popular add-in for crunch and taste. Some cherry tomatoes and/or hard-boiled eggs make some suitable sidekicks.
---
Potato Salad Southern German Style
2014-09-01 18:46:14
Serves 6
Ingredients
1 kg (2 pounds) low-starch potatoes
2 ts sea salt
250ml (1 cup) beef stock
3 TS white whine vinegar
1-2 ts Dijon mustard
1 medium-large onion, diced
Salt and pepper, to taste
80-100g (3-3.5 ounces) radishes (about 4-6), thinly sliced
45g (1/3 cup) cornichons, sliced (optional but recommended)
4 TS olive oil
Either 3-4 TS chopped chives
and/or a handful of chopped (flat-leaf) parsley for topping
Instructions
Thoroughly clean and wash potatoes than place them in a big pot and fill with cold water till potatoes are just covered. Bring to a boil on high heat with lid on, then turn to medium-high and add 2 ts salt.
Depending on size cook potatoes for about 20-45 minutes with lid on or until cooked through but still firm. Then drain and rinse them with cold water for a few seconds.
Meanwhile bring beef stock to a simmer, add vinegar, Dijon mustard and diced onions then turn down heat. Let onions soften in residual heat. Season with salt and pepper to taste. Set aside.
Peel all potatoes then cut in thin slices and place in big mixing bowl along with sliced cornichons, radishes and chives (if used).
Now add olive oil to the beef stock concoction before pouring it over potatoes. Carefully mix and let them sit for at least 45 minutes to infuse.
Sprinkle some chopped parsley for topping before serving.
Notes
With the 'knife test' you can check if potatoes are ready by sticking a knife in the center. If it runs smoothly they are through, if there's resistance then they need to boil a little longer.
Potato salad is great to (grilled) meat, fish, sausage, and burger, or falafel (http://foodforfreude.com/pan-fried-falafel/).
You can also enjoy it alone as lunch.
Recommendable potato salad sidekicks are cherry tomatoes, hard-boiled eggs and deviled eggs.
Vegetarians substitute beef stock with vegetarian-friendly vegetable stock.
food for freude http://foodforfreude.com/
Equipment
The Basics (cutting board, chef's
knife)
Big pot – for boiling the potatoes
Potato skin peeling knife and fork (recommended)
Big mixing bowl
---